Almost every business these days is under the same pressure. Pressure to increase their services/ products and generate higher revenue in addition to expanding the client base. Maximum of these businesses have tried and tested all ways to reinvent their business and are searching other methods to add value to their current clients.
When it comes to web designers or developers, to accompany their current services providing web hosting service is a good fit. If you too are a web designer or a web developer then this read is for you.
Although web hosting might not be your core business, adding on this service can add a great value to your customers. In this article, you will get to know how you can increase your business revenue by becoming a reseller of the leading reseller provider in India- MilesWeb.
What is Reseller hosting?
A reseller hosting simply means reselling web hosting services of other providers as your own. The way a shopkeeper resells a product by purchasing from a wholesale dealer. Similarly, if you become a reseller for web hosting service, you buy a server from a web hosting provider and sell the portion of its resources at your own price.
Once you choose to become a reseller provider of MilesWeb you will be capable of reselling the resources of your server to your clients. Server resources like email accounts, disk space, bandwidth, and other resources can be allocated.
MilesWeb gives you the ability to create several cPanel accounts under your own reseller account. These cPanel accounts are individual hosting accounts that can be sold to your clients. Once you sell these accounts, the profit you receive is the calculated based on your purchase price and selling price.
The two most common types of platforms available for this type of hosting are Linux reseller hosting or go with Windows reseller hosting. Although the working of these servers is similar to each other, there is still a fine line between the two. There are a number of users that are stuck to  Linux reseller hosting while some users do prefer Windows reseller hosting.
Features offered with their Reseller hosting plan:
White Labelled reselling
With MilesWeb, you get the flexibility to sell the web hosting service with your own brand name. This is called white labeled hosting which allows you to include your logo and brand name in WHM and cPanel. In this way, your clients will not know that you are selling the hosting service of other company.
WHM
A WHM is web hosting manager tool that helps you create and manage all the cPanel accounts from one single dashboard. It is one such web application tool that provides you the admin access to the backend of those cPanels. You can do a lot of things with cPanel such as add domains to the server, create cPanel, change/reset their password, manage features of plans and packages and much more.
Domain reseller account
Without spending any extra bucks you can become domain reseller. With the help of MilesWeb fully customizable tools, the domain reseller services can be included within your own services. Their domain reseller account contains over 400 TLD and extensions.
SSD server
With SSDs integrated on MilesWeb servers, the performance of your web pages will be much faster and better. Unlike SATA drives, SSDs don't use the spinning mechanism; rather it uses flash technology to store data on the drives.
Free SSL
An SSL has become essential these days, but you don't need to buy SSL certificate separately, because MilesWeb reseller plan already has in-built Let's Encrypt. An SSL helps to keep all the sensitive data on your website secure, the data such as debit card, credit card information, net banking, other login details etc.
Data center choice
A right data center can help you reach your specific target audience. It is recommended that you choose a data center location close to your target audience geographical region. MilesWeb reseller hosting lets you choose your own data center location from US, UK, and India for your reseller plans.
WHMCS
This is an all in one tool that helps you manage billing and support tickets of your clients. It helps you save a lot of time by minimizing your repeated tasks such as generating invoices, sending reminders, etc. by making all this process automated.
Pricing of MilesWeb reseller hosting plans
The starting price of MilesWeb reseller plan is just Rs.365 per month. They have separate plans: with WHMCS and without WHMCS tool for their reseller hosting. Plans with WHMCS tool: Pluto Mars, Jupiter. Plans without WHMCS- Entry, Smart, and Plus.
All the plans without WHMCS tool currently have a discount of 20% on their current prices. While other plans have a 25% discount on the actual price. You can use the coupon code available on their website to avail discount at the time of checkout.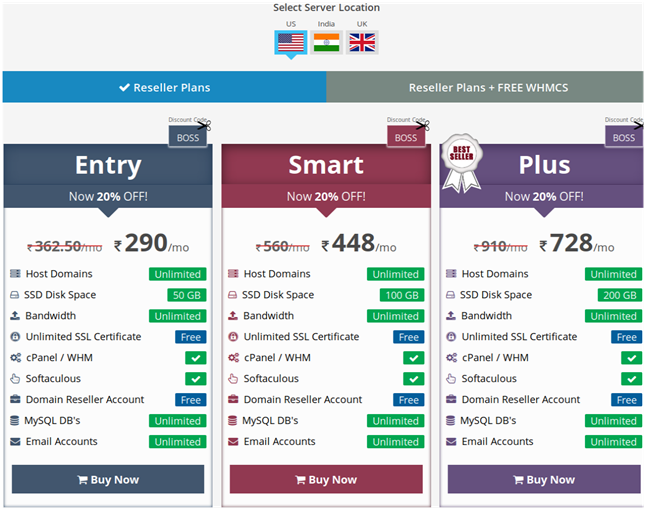 Wrapping up
Generating side income was not this easy before a few years. But with the availability of various programs like reseller hosting and affiliate marketing increasing your revenue has become really effortless. MilesWeb reseller hosting is a reliable and cost-effective method to bring in more profit to your existing business.
Besides affiliate marketing, MilesWeb also has another way- the affiliate program to earn money online. Which doesn't need any investment, you just need to sign up and you are all set to go.