There are many kinds of TV wall mounts available in the market. And each of one of them come with their own pros and cons. Let's give them a read.
1. Low-Profile Wall Mount Brackets
Usually, these TV wall mounts brackets are the simplest to put on and most affordable in cost when it comes to comparing with tilting and full-motion wall mount counterparts. The process involved in the wall mounting for a low profile mount is a tad bit harder than hanging up a heavy picture on the wall. In order to make it easy, remember, this very convenience comes with a cost. You won't be able to adjust the TV post installation. These wall mounts don't tilt and they don't move in any direction. This lack of movement makes the cable switching complicated.
2. Tilting Wall Mount Brackets
These are a tad bit costlier than low profile wall mount. They are installed with the same level of convenience as the one listed above. The only distinction between these TV mounts is the TV can be adjusted at a vertical viewing angle when using the tilting wall mount. This wall mount comes with a pivot in the middle of the installation bracket. This pivot makes it easy to establish a good viewing angle no matter if you are lying on the floor. This also makes changing the cable easier but the tilt feature is the only con.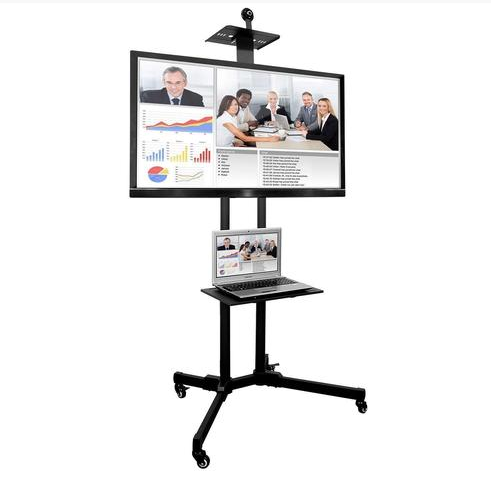 3. Full Motion Wall Mount Brackets
As the name suggests, these are legit full-motion wall mounts. But, it comes with a cost that renders it the most expensive choice among all. Apart from that, they are also complicated to install as the mounting bracket has moving brackets and an arm. You will need at least more than one person to install this mount and the TV. When it comes to the motion, it lets you adjust the horizontal viewing angle by physically moving the flat panel away from the wall. This is because these wall mounts come with a movable arm that joins the flat panel to the wall. This arm can be used to extend the TV away from the wall so as to swivel it horizontally.
4. Ceiling Mount Brackets
When you cannot mount your TV to a wall, mounting it to a ceiling is the last option for you. As they are installed on the ceiling, they can be rotated and titled in all directions. This is also an ideal option when you have limited living space.