Being into a web designing business involves handling of tough clients and making them happy with your creativity. It's just not simple to understand every client's requirements and then meet them. You need to have a deep idea about website designing and must know the software and coding language to design a good website. But many times, you get bored or annoyed by handling the clients who don't even have the knowledge about the designing and end up in spoiling all your work.
In such a situation, you might think of starting a new business or maybe earning extra to increase your daily bread. There is an option for you. You can start selling web hosting services too with your regular web designing service. Don't worry; you won't require a deep understanding of web hosting. Instead, just basic knowledge is enough to run this business. Also, everything that's technical will be completely managed by your web host. You just need to sell web hosting as an add-on service to your clients. This will help you to keep your clients happy as well as get you more clients with the existing ones.
The question that will strike your mind is that "which is the best web host?" Picking up a web host for your reseller hosting business is very difficult today. This is because the market is flooded with many web hosting providers that showcase their best features. You will surely need a provider that offers web hosting at affordable pricing as well as with complete features. MilesWeb will surely be the right solution for this.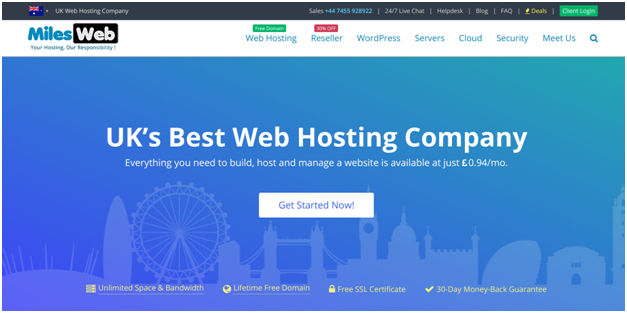 MilesWeb – The Cheap Reseller Host of UK
Standing in the list of all the leading web hosts of UK, MilesWeb has earned its name by serving customers with all the features required for creating their presence online. They have been successful in filling the gap left by other providers in terms of technology and features. They stepped into the world of web hosting in 2012. Since then they have built up a large customer base and currently cater to 10000+ customers. Every business will find a solution with them.
You can select from a wide range of hosting solutions such as shared, dedicated, VPS, WordPress, cloud, reseller and business hosting. In addition, they also offer other application-based hosting solutions.
Reseller Hosting Plans
Being the cheap reseller hosting UK, MilesWeb offers three plans – Reseller Hosting and  WHMCS Reseller Hosting.
Reseller Hosting Plans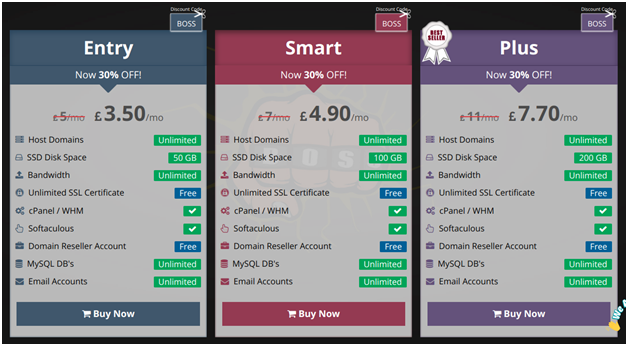 WHMCS Reseller Hosting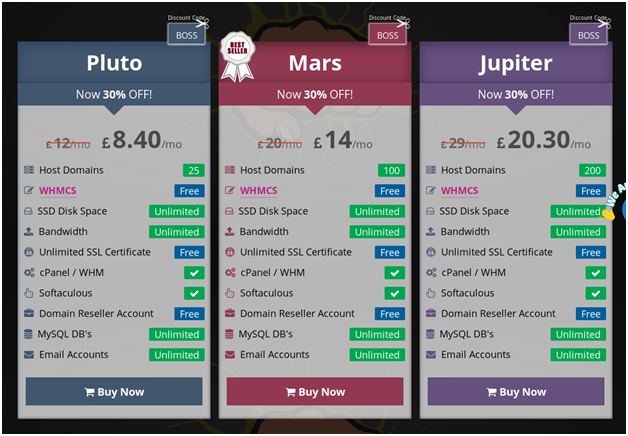 Features Offered by MilesWeb
100% White Labelled: MilesWeb offers 100% white labeled reseller hosting which helps you to sell the web hosting services under your own brand name. You can brand the control panel, use the custom DNS, give anonymous server names and so on. Your clients won't know that you are reselling the services of another web host.
100% SSD Storage: Faster performance is what keeps visitors engaged on your website. So, you get 100% SSD storage which stores the data fast and improves your website performance by loading the web pages faster.
Host Unlimited Websites: Have multiple websites to host? You can host unlimited websites with their unlimited reseller hosting plan. You can create cPanel accounts for each user from the WHM and then host multiple websites.
Free Domain Reseller: You can also resell the domains to your clients. MilesWeb offers you over 400 extensions and TLDs to sell. They don't charge you extra for setting up the domain reseller account.
Free SSL Certificate: Security is required by every website today. Therefore, they offer free SSL certificate to secure your clients' data such as credit/debit card details, personal details, bank details, etc.
Web Host Manager (WHM): WHM allows you to manage your clients' accounts, unlimited websites, emails and much more. You can also create cPanel accounts for all the clients via WHM.
cPanel Control Panel: Your clients can manage their domains, emails, and websites from a web-based interface. cPanel helps them to manage their accounts in a very easy way.
1-Click Installer: Want to install applications on your website? You can install applications in just a single click. MilesWeb allows you to install more than 400 applications such as WordPress, Drupal, Joomla, Magento, etc. using Softaculous.
Free WHMCS: You get the free WHMCS license only with the WHMCS reseller hosting plans. WHMCS helps to manage your clients' billing and invoice in multiple different currencies. Since you can automate everything, it saves you time. The tasks such as generating an invoice, sending a reminder to clients, etc. are automated.
Free Website Builder: Anyone can build a good business website with the help of the free website builder. Just drag and drop the content and images in the theme you have selected and build your website. No coding or technical skills will be needed.
Datacenter Choice: You can select your preferred data center location from Australia, Canada, Singapore, India, US, and UK. The closer your data center is to your target audience, the faster the website loads for them. They don't charge you extra for data center location.
Malware Scan and Removal: Your website will be scanned for the malware and if any threat is found, it will be fixed immediately. The websites are scanned automatically on daily basis.
Free Website Migration: Not getting the proper solution for your problems from your current web host? Switch to MilesWeb. They will help you in the complete migration of your website. They have a record of migrating websites without any data loss.
Website Backup and Restore: Though being offered as a paid feature, website backup and restore is very important to secure your website data from being lost or getting corrupted. You can add or remove this feature while signing-up for the reseller plans.
Earn More by Selling Hosting Add-ons: You are also offered with a list of hosting add-ons to sell. These add-ons include Domain Registration, VPS Hosting, Dedicated Hosting, SSL Certificate, Backup, SpamExperts, Whois ID Protection, etc. This will not only help you to keep your clients happy but also earn extra.
MilesWeb proudly stands on its three pillars:

24/7 Support: Their technical support team is available round the clock to support you. You can have a live chat conversation, call them on phone or email them for your queries. They are expert in resolving your queries within a few minutes.
99.95% Uptime Guarantee: Your website will always remain up and running for your visitors. This is ensured with their Tier-3 and Tier-4 data centers that help to deliver the best uptime.
30 Day Money Back Guarantee: You are not getting the proper response from them? Ask for the refund within 30 days of the service purchase and they will give you your money back.
Is MilesWeb Best for Web Designers?
Of course, it is! You won't get so many features with any other web host. MilesWeb helps you to start your own web hosting business and become your own boss.